You can organize and manage your reading by adding titles to different lists in the Library tab.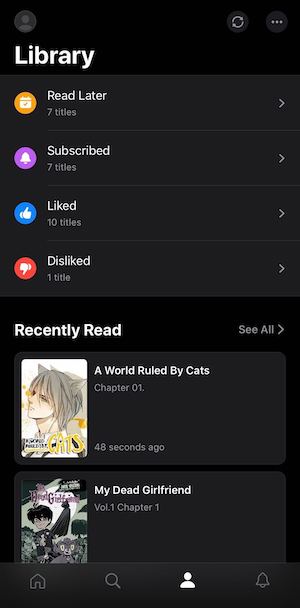 Tap

in the menu bar to view your Library
Reading Lists
A reading list is simply a collection of titles. There are 5 lists currently available for you.
Recently Read
When you read a title, it is automatically added to the Recently Read list.
To see the complete reading history, tap SEE ALL.
Read Later
To add titles to this list, tap on the bottom bar in the info page.
Subscribed
To get notified when a title has new chapters, tap in the info page to add it to the Subscribed list.

Chapter updates will be sent to you via push notifications and appear in the Updates tab.
Liked
To show some love to a title, tap on the bottom bar in the info page.
Disliked
To dislike a title, tap (iPhone) / (Android) on the title, then Dislike.
Disliking a title doesn't make it disappear from the app. But your input will help us recommend better content in the Home tab.
Note: Read Later, Subscribed, Liked, and Disliked lists are only available to signed-in users. Sign in to INKR Comics to add titles to these lists.
Edit Shortcuts
To hide or unhide reading lists from Library, tap / in the Library tab, then Edit Shortcuts.
Sync your library
When you sign in to INKR Comics, your Library data is automatically synced to the cloud and you can access your reading lists on all of your devices. Tap here to learn more.