Our content partners decide how their titles can be accessed on INKR Comics—whether through ad-supported free chapters, subscription, or coin-unlock. A title's pricing can be changed anytime without prior notice.
While our team cannot control the pricing, we always try our best to work with our content partners to get you the best offers possible.
Special Discount for INKR Extra Members
INKR Extra not only gives you access to a fast-growing library of exclusive titles but also the best deals to unlock Coin chapters.
When you are an INKR Extra subscriber, you receive a big discount when unlocking all chapters at once.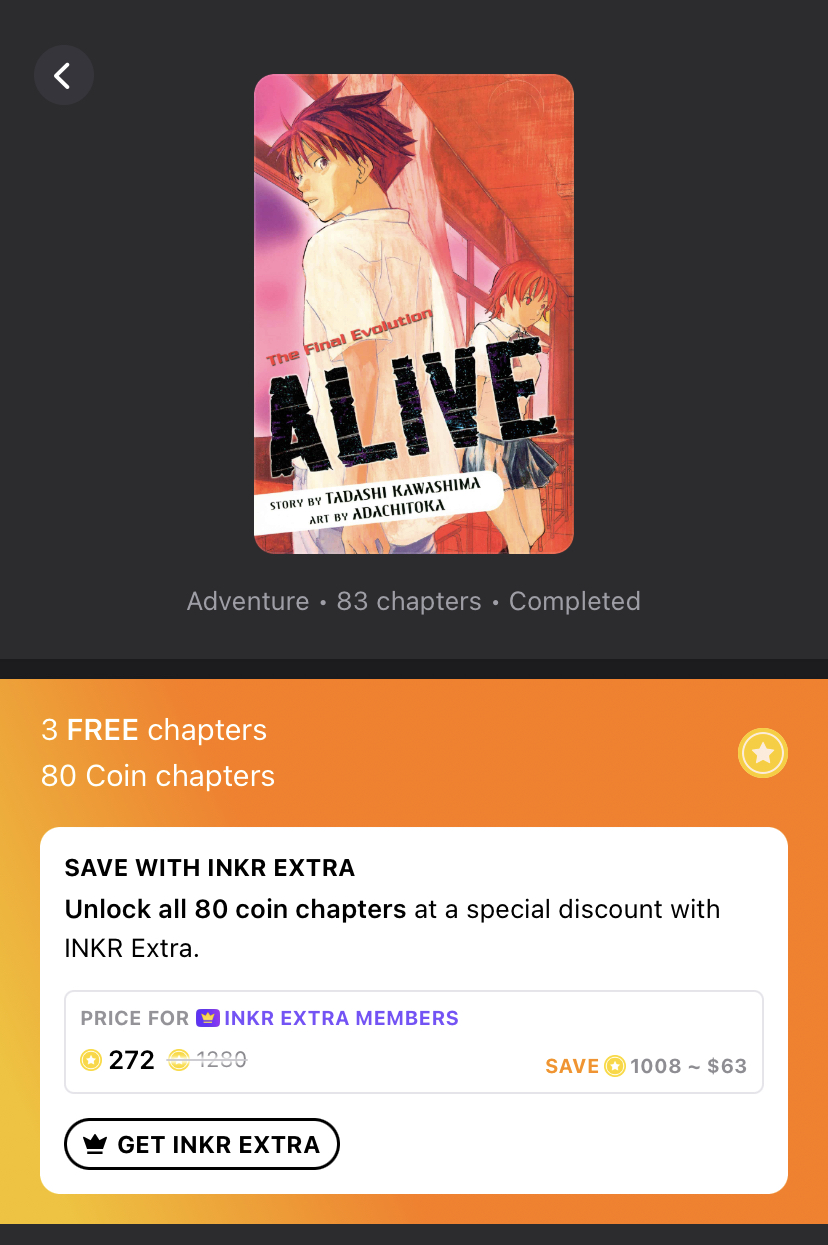 Save 1008 Coins when you unlock all 80 chapters of Alive - The Final Evolution
The special offer is reserved for INKR Extra subscribers only. Here's the list of titles:
Kiss Him, Not Me

Princess Jellyfish (Omnibus)

Attack on Titan: Before the Fall

Clockwork Planet

The Full-Time Wife Escapist

Descending Stories

Watari-kun's ****** Is about to Collapse

Princess Resurrection

Peach Heaven

Beware the Kamiki Brothers!

Golosseum

COPPELION

My Sweet Girl

Ao-chan Can't Study!

Pitch-black Ten

Interviews With Monster Girls

A Kiss, For Real

Alicia's Diet Quest

A Silent Voice

Aho-Girl

Can You Just Die, My Darling?

Kasane

Love In Focus

My Little Monster

That Wolf-Boy Is Mine!

Alive - The Final Evolution

Gakuen Prince

Inuyashiki

Your Lie in April

Aoba-kun's Confession

Attack on Titan: Junior High

Kamikamikaeshi

Missions of Love

Say I Love You.

FAIRY GIRLS

Sweetness and Lightning

Boarding School Juliet

Devils' Line

Kira-kun Today

Happiness

The Knight Cartoonist and Her Orc Editor

Mardock Scramble

Tokyo Tarareba Girls

Can I Kiss You Every Day?

Kakafukaka

A Springtime with Ninjas

Noragami

Goobye! I'm Being Reincarnated

Black Panther and Sweet 16

Waiting for Spring

Defying Kurosaki-kun

LDK

Welcome to the Ballroom

Back Street Girls

Grand Blue Dreaming

Beauty Bunny

Elegant Yokai Apartment Life

Nodame Cantabile

Yozakura Quartet

Our Precious Conversations

My Boy in Blue

Starving Anonymous

The Walls Between Us

To Your Eternity

EDENS ZERO

The Seven Deadly Sins

Mikami-sensei's Way of Life

You Got Me, Sempai!

Are You Lost?

Pumpkin Scissors

Tokyo Revengers

That Time I got Reincarnated as a Slime