OBSOLETE - new article here
--------
INKR Comics provides readers with multiple ways to access our ever-expanding diverse library of officially licensed, high-quality comics.
While you can directly unlock any chapters with coins for instant access (aside from the free ones), INKR Extra membership offers huge savings on top of many other benefits: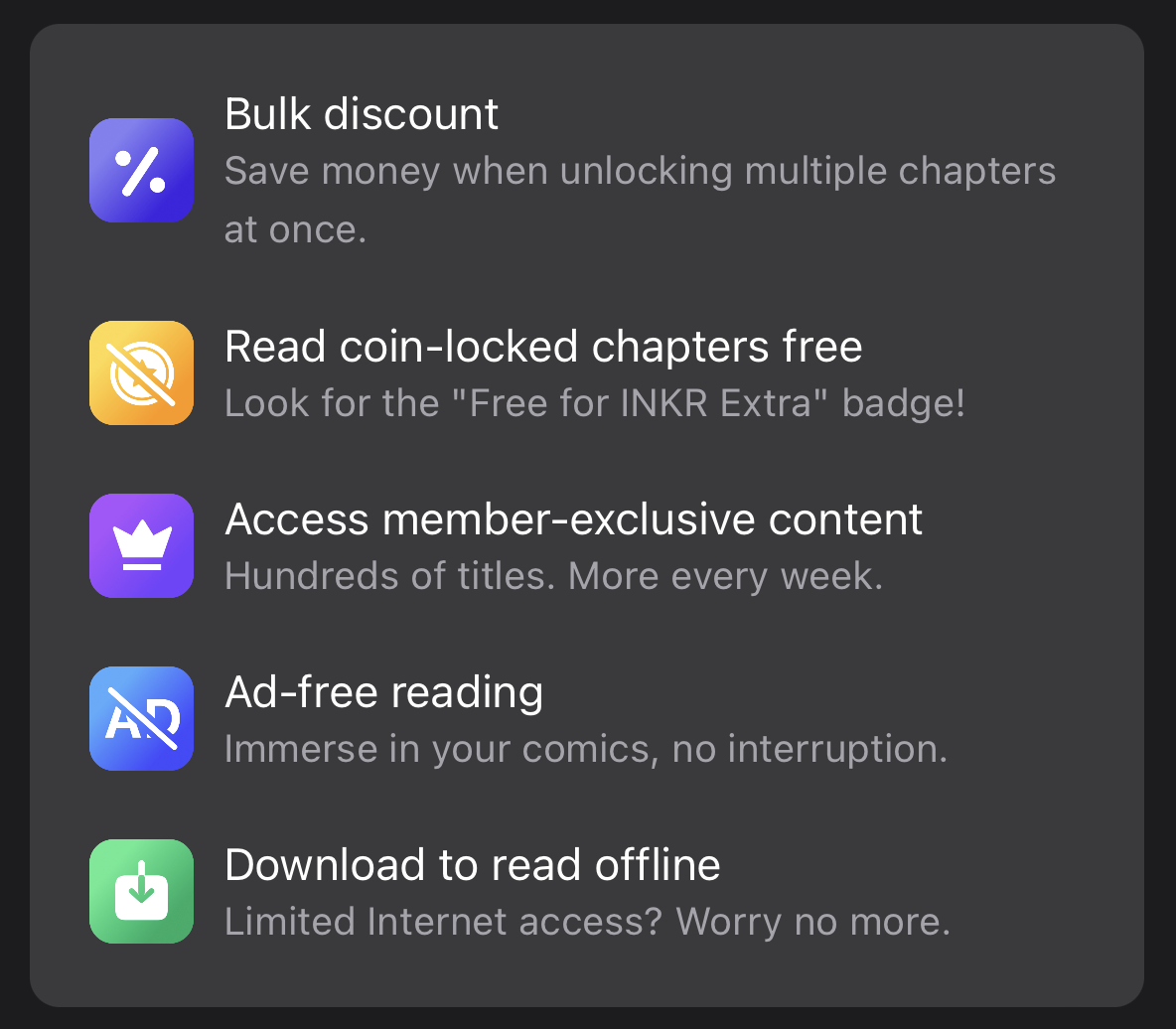 Bulk Discount — You will receive a discount when unlocking multiple chapters at once with coins.
Read coin-locked chapters free — Thousands of coin-locked chapters are free-to-read for INKR Extra members if they have the "Free for INKR Extra" badge.
Access member-exclusive content — We constantly work with our content partners to bring our readers more INKR Extra-exclusive content, with new titles added every week.
Ad-free reading — As an INKR Extra member, you will not see any ads while reading.
Download content — You can download chapters to your device and read them later even without Internet connection. Note: downloaded content will expire after 30 days and need to be re-downloaded.

How to subscribe to INKR Extra
From your profile page:
Open the app. Tap your account's profile picture in the top right corner.
Under INKR Extra Subscription, tap Get INKR Extra.
Tap the "$4.99/month" button, then follow the instructions of the App Store/Play Store.
From a subscription-locked chapter:
Open a subscription-locked chapter from the chapter list.
In the Viewer, swipe to the end of the chapter preview.
Tap the "$4.99/month" button, then follow the instructions of the App Store/Play Store.
Special offers for INKR Extra subscribers
At the moment, there are limited offers for INKR Extra subscribers to buy bundles of coins and subscription months at a discount rate. To check out the offers, open the Coin Shop, and look for Limited Offers for Subscribers.