The INKR Comics app introduces 2 ways to discover new comics.
Home
The Home tab is where you can check out suggestions on what to read next, new releases, and quickly resume the title you are reading.
Home is the first tab you'll see when you open the app. It currently contains these sections:
News
Resume Reading
New Releases
Newest titles by genre
We are planning to add many more sections to Home to help you find new, relevant titles.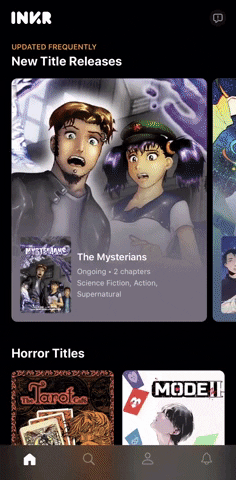 Title Browser
This feature helps you discover titles more easily by presenting only relevant information and a preview of the first chapter.
To open Title Browser, simply tap on a title in the Home tab.
To view a title's all info, tap

(iPhone) /

(Android), then View All Info.
Explore
The Explore tab lets you browse through the current comics catalog.
Here, you can:
See the titles currently available
Search titles
Get more information
Start reading them
The titles in the comics catalog are currently sorted alphabetically by name.